Welcome to the new web page for medic784
Please choose an icon selection at the top to view some of my pages. Some of these pages will open in a new window, to return here simply click on the close window box at the top off your screen. A few of the pages will open in this window, there is no need to close this window. Doing so will close your browser!
As time goes on I will be adding more pages and links that will be of EMS, Fire Service and Law Enforcement interest. If you have anything that you would like to see changed or added to these pages let me know by signing my guest book and filling in the comment section. Thank you for visiting my web site!
---
Click on the rescue rig below to go to my new forum page and join our discussions and message board!!! I think you will really like it.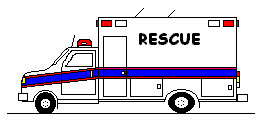 Visit Officer Stephens hometown Police Departments web page!
Click on the picture to take you to his page!
Do you like the cursors you are using on my pages? If so, visit the link here to get more!
---
Here is some info about your PC, amazing what people can find out about others isn't it?
Free JavaScript's provided
by The JavaScript Source
MEMBER
of the POD